Corporate and Secretarial Services
ACHI BIZ is your personalized premium service provider under one roof when it comes to seeking corporate assistance in Singapore as well as Offshore. We offer custom services based on the needs of businesses ranging from small to mid-sized different types of firms and entities.
A wide range of registration and incorporation services are available to the following firms and entities respectively.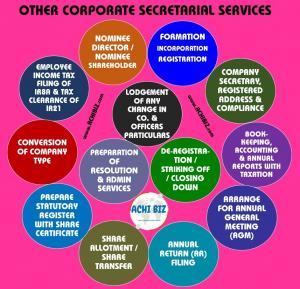 A wide range of following Corporate Secretarial Services are available for all types of firms and entities:
Other Secretarial Services including the following:  
Arranging for Annual General Meeting (AGM)
Annual Return Filing
Filing with the Authority for any change of particulars
Share Allotment
Share Transfer
Preparation of Share Certificate
Construction of Statutory Register
Preparation of Resolutions
Conversion of Company Type
Nominee Shareholder
Answering of your personalized Telephone
Providing personalized Fax Facility
Administrative Functions
Many more related to Corporate and Secretarial
Please refer to our GUIDES for more information or CONTACT us if you wish to avail these or many other services.