Singapore Employee Handbook
Facts:
Many Employers have employee handbook which sets out certain benefits and also covers matters like disciplinary procedures and general conduct.
Is this part of my employment contract?
While the appointment letter or Key Employment Terms (KETs) may set out the main terms of the employment contract, it may not be feasible for it to provide a comprehensive list of all employment obligations and benefits. Many companies therefore place these in a separate document, such as a staff handbook. A staff handbook can form part of the employment contract if the employee is given notice of it before or at the time that he or she enters into the employment contract.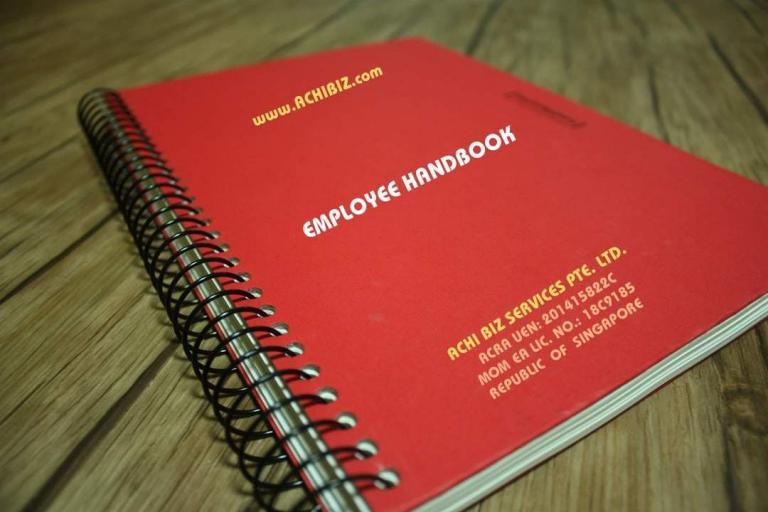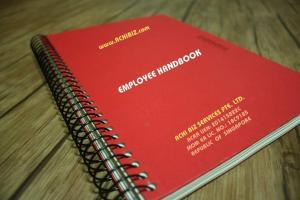 For example, the appointment letter may specifically state that "Your employment is subject to the terms in the Staff Handbook." Or there may be a more general statement, such as: "Your employment is subject to the general terms and conditions of the company." This could be broad enough to cover documents such as the staff handbook.
If the employee or staff handbook is part of your contract, you should familiarise yourself with it, as you have to comply with its terms and conditions.
However, a staff or employee handbook may cover many matters, and not all of them may be employment terms and conditions. Certain minor matters might just be considered to be house rules or guidelines.
You may wish to include the following applicable clauses in your Employee Handbook:
Clause

Contents

1.00

Induction Procedure For New Staff Members
2.00
Employee Commitment Form
3.00
Our Company And Its Business
4.00
Mission Statement
5.00
Your Employment And This Handbook
6.00
Industrial Awards/Collective Agreements
7.00
Experience And Training
8.00
Employee Relations
9.00
Employment Categories
9.01
Probationary Employees
9.02
Full-Time Employees
9.03
Part-Time Employees
9.04
Casual Employees
9.05
Contract Of Service (Employer & Employee Engagement)
10.00
Employment
10.01
Employment Equity
10.02
Recruitment and Selection
10.03
Nepotism
10.04
Orientation
10.05
Employee Classifications
10.06
Employee Duties
10.07
Personnel File
10.08
Probation
10.09
Annual Salary
10.10
Performance Appraisals
10.11
Professionalism
10.12
Discipline
10.13
Hours of Work
10.14
Statutory Holidays
10.15
Overtime
10.16
Meal Breaks
11.00
Time Avway From Work
11.01
Time-off
11.02
Annual Leave Entitlements (not Applicable To Casuals)
11.03
Sick Leave (not Applicable To Casuals And Probationary Employees)
11.04
Compassionate Leave
11.05
Maternity Leave
11.06
Paternity Leave
11.07
Adoption Leave
11.08
Child Care Leave
11.09
Unpaid Infant Care Leave
11.10
Long Service Leave (not Applicable To Casuals)
11.11
Unpaid Leave (not Applicable To Casuals)
12.00
Benefits
12.01
Medical & Dental
12.02
Group Medical
12.03
Foreign Worker Medical Insurance
12.04
Personal Accident Insurance
13.00
Professional Development
14.00
Employee Movements
15.00
Presentation And Dress
16.00
Customer Service
17.00
Discrimination And Harassment Policy
17.01
Bullying
17.02
Harassment
18.00
Dispute Settlement Procedure
19.00
Counselling Procedure
20.00
Workplace Safety & Health Policy
20.01
SGSecure
20.02
Air Quality
20.03
Alcohol And Drug Policy
20.04
Fire Evacuation Procedure
20.05
Smoke Free Environment
20.06
Scents
20.07
Pets
20.08
Renovations
21.00
Workplace Injuries And Compensation
22.00
Computer And Email Policy
23.00
Use Of Telephones
24.00
Emergency Contact Numbers
25.00
Disclosure Of Confidential Information
26.00
Retirement & Re-Employment Policy
27.00
Departure
27.01
Termination for Cause
27.02
Termination without Cause
27.03
Resignation
27.04
Lay-off
27.05
Employer Property
28.00
Corporate Compliance
Remarks: Some of these clauses may or may not be optional to include in the contract.
ACHI BIZ could assist you with preparation of the customized employee handbook according to your needs with wide range of Human Resource supports.
Please CONTACT us if you wish to know more about this service or many other services.