Guide For Singapore Work Permit For Foreign Worker (FW)
The Work Permit (WP) allows semi-skilled foreign workers from approved source countries to work in certain sectors such as Construction, Manufacturing, Marine Shipyard, Process or Services with sector-specific requirements. Employers are limited by a quota for their industry and have to pay a monthly levy for each worker.
Get an overview and key facts about the Work Permit for foreign workers.
Pass facts
Key facts about the Work Permit (WP) for foreign workers:
| | |
| --- | --- |
| Who it is for | |
| Who can apply | An employer or appointed employment agent needs to apply for the permit. |
| Qualifying salary | |
| What is the duration | Up to 2 years, depending on the validity of the worker's passport, security bond and employment period. |
| Is it renewable | |
| Passes for family | |
| Quota and levy | Yes. Employers are limited by a quota for their industry and have to pay a monthly levy for each worker. Find out the quota and levy requirements. |
| Medical insurance | Employers must provide medical insurance |
| Relevant legislation | |
Sector-specific Requirements
There are Sector-Specific requirements for all five sectors for recruiting Foreign Work Permit holders.
(click on the below type of Sector for specific requirements or image for general functions):
| | |
| --- | --- |
| Process Chart For Pte Ltd Co. | |
| | |
| | |
| | |
| | |
| | |
Stages of Pass
Before Applying:
Know Work Permit requirements by sector
Know your quota and levy
Declare business activity (For first-time employers)
Apply for Man-Year Entitlement (MYE) (For Construction and Process sectors)
Apply for prior approval (For Construction, Process, Marine Shipyard)
Apply for in-principle support (For Process maintenance)
Before Arrival in Singapore:
Apply for Work Permit
Buy Security Bond
Buy Medical Insurance and submit details
Register the worker for Settling-In Programme (SIP)
Upon Arrival in Singapore:
Send the worker to attend Settling-In Programme (SIP)
Register worker's accommodation address
Send the worker for medical exam
Get the Work Permit issued
Register fingerprints and photo
Receive the Work Permit card
Monthly:
As and when required:
Notify MOM of any changes
Apply for levy waiver
Renew the Work Permit
Replace the Work Permit
Cancel the Work Permit
Settling-in Programme (SIP) for Work Permit holders
All first-time non-Malaysian foreign workers in the construction sector must attend the SIP to learn about their employment rights and responsibilities, and other useful information. From 1 December 2019, it is extended to manufacturing, marine shipyard and process sectors.
At a glance
Who must attend

All Work Permit holders who:

Are first time working in Singapore.
Are non-Malaysians.

Which sectors

Note: From 1 December 2019, first-time non-Malaysian Work Permit holders in the following sectors also need to attend SIP:

Manufacturing
Marine shipyard and
Process sectors

When to attend

Within 14 days of foreign worker's arrival in Singapore.

Duration

Is it mandatory

Yes.
Foreign workers must attend SIP before Work Permit can be issued.

Cost

$75 (including GST), borne by the foreign worker's employer.

Languages

English, Bengali, Burmese, Mandarin, Tamil or Thai.

Documents required

Your foreign worker must bring the following documents to the SIP training centre:

IPA letter – full set, employee's copy
Foreign worker's passport
What is it
The SIP is a 1-day orientation programme to educate foreign workers on Singapore's social norms, their employment rights and responsibilities, Singapore laws and where and how to seek assistance.
The topics include:
Understanding Singapore
Local practices and social norms
Employment laws
Employment and work injury compensation rights
SGSecure and other key laws
Register for SIP
To ensure that your foreign worker gets a training slot within the first 14 days of arrival in Singapore, you should register for the SIP early.
You can register as soon as you know their arrival date.
The Migrant Workers' Centre (MWC) will conduct the SIP on behalf of MOM.
The number of Work Permit holders you can hire is limited by a quota. You must also pay a monthly levy for these workers.
You can get a waiver for your foreign worker levy payments only in certain specific situations. These include overseas leave and hospitalisation leave.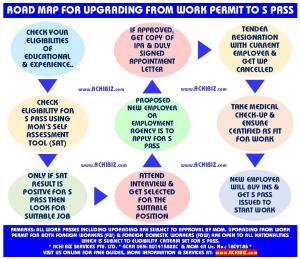 If you hold a Work Permit and wish to apply for an S Pass, first ensure that you are eligible for the S Pass by using the S Pass self-assessment tool at MOM website at: www.mom.gov.sg
If you meet the requirements, your employer can then apply for an S Pass for you.
Note: Your employer should apply for the S Pass early.
You can remain in Singapore while the application is being made, as long as your Work Permit is valid. Your employer doesn't have to cancel the Work Permit before the S Pass is approved.
If your Work Permit is expiring before you get the S Pass application outcome, your employer can request to extend your Work Permit using WPOL e-services. The extension is subject to MOM's approval.
You can renew a Work Permit online 6 to 8 weeks before it expires. Before renewing, you also need to complete certain steps, such as checking your quota and extending the worker's security bond and medical insurance.
You must cancel a Work Permit if your worker no longer works for you or when the Work Permit expires. You must also return the cancelled Work Permit card.
Please refer to MOM website at www.mom.gov.sg or www.cpf.gov.sg for more detailed information and up-to-date guidelines with regulations.
ACHI BIZ is one of the licensed Employment Agencies in Singapore. We will assist your work pass related applications and appeals at our level best with the regulatory authority Ministry Of Manpower (MOM) for successful outcome.
Please refer to our GUIDES for more information, SERVICES to meet your requirements or CONTACT us if you wish to avail these or many other services.