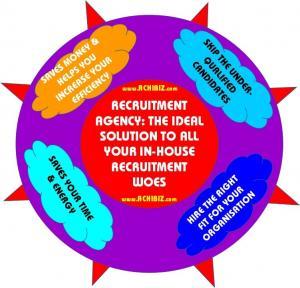 When it comes to recruiting new candidates for available positions in our organization, we always look forward to hiring eligible candidates at a CTC, which the company can bear conveniently. We often opt for cost-cutting techniques when it comes to hiring new candidates and tend to conduct the interview process on our own. This method is, however, time taking and cumbersome, which may or may not lead to fruitful results.
On the other hand, if we strike a deal with a qualified recruitment agency to find eligible candidates, we may often find more than the required amount of candidates for our organization. There are a plenty of reasons why we consider recruitment agency to be the ideal solution for all our recruitment issues. Read on to know why we have vouched for recruitments solutions through an agency:
Skip the Under-Qualified Candidates and Hire the Right Fit for Your Organization
If you hire a qualified recruitment agency and explain your requirements to them, they will search for eligible candidates and send only qualified candidates who fit the requirement. Once that is sorted, you may easily filter candidates for your company. This option is definitely better than finding candidates from a pool of under-qualified candidates.
Saves Your Time and Energy
If your company is in urgent need of hiring candidates, it generally means that the workload is more and hence you need more people to complete the task within the designated timeline. If you happen to hire candidates on your own, you might end up wasting more time on recruiting the right set of candidates and will end up lagging behind your daily schedule. The designated recruitment agency will help you save your time and invest it in the right places to optimize the workload and help you fare better in terms of hiring the right candidates
Saves Money and Helps You Increase Your Efficiency
We are always on the lookout for a candidate who is not only best fit for your industry but also can negotiate on the salary part. In this segment, the recruitment agency can help you find candidates as per your requirements and they will negotiate on your behalf and lock in candidates as per requirements.
These are a few of the things, which make the recruitment agency an ideal solution for finding the right candidates for your company. For hiring candidates for roles like accounting, taxation and payroll functions, we need qualified individuals to assess the quality of the candidates and the agencies have the right individuals who are qualified enough to assess every individual in the most appropriate way possible.